Bubbling Rock Fountain in St. Louis
With Nature's Re-Creations' bubbling rock fountains, you can enjoy the calming, gentle and soothing sounds of bubbling water from anywhere in your garden or landscape. These fountains offer an easy way to add the natural sounds of running water to any outdoor area.
What are Bubbling Rock Fountains?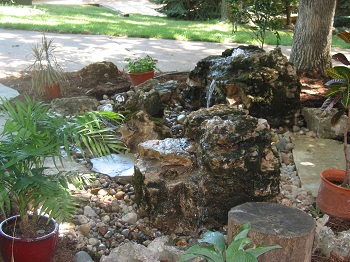 Bubbling rock fountains are large or small boulders placed upon an underground reservoir that continuously re-circulates water. The water bubbles from the top – just a few inches high – and then cascades down the boulder. The water is eventually channeled into an underground basin, which pumps the water back through the bubbling rock fountain. We take great care in selecting our boulders and where we place the hole, or holes, so we can generate natural, pleasing waterfall sounds.
Bubbling rock fountains can be used as an accent piece in your garden or as the main focal point in your or landscape. Whatever look you desire, Nature's Re-Creations in St. Louis will make sure that your vision becomes a reality. We can even handpick a boulder to perfectly match your outdoor space.
Shape & Size
Bubbling rock fountains occupy the smallest amount of space in your landscape. They typically only require an 8'x8' or 10'x10' (or sometimes smaller) area to work with. Nature's Re-Creations can custom size your fountain if desired for a unique look. We can core drill a boulder to be a small enough size that can be managed by hand or large enough to a massive machine set stone that weighs 1 to 2 tons or more. Bubbling rock fountains can be placed as single features or done in multiples with several stones to create a custom look.
Cost & Maintenance
Custom bubbling rock fountains or fountainscapes are the most affordable and can range anywhere from $3,500 to $10,000+ depending on size, shape and design.
Bubbling rock fountain boulders require little maintenance. Occasional algae treatments, keeping the basin or reservoir clear of leaves and debris, and occasional top offs from water loss/evaporation may be required.
Bubbling rock fountains can be completely winterized or left to run all winter, allowing beautiful ice formations to form. Ensuring that the feature is topped off prior to a prolonged cold spell may be required. Some fountainscapes may not be able to run all winter depending on the style and type of fountain.
Aquascape, Inc. AquaBasin™
The AquaBasin™ is a reservoir that holds up to 75 gallons of water and supports up to 2,000 pounds. Your Certified Aquascape Contractors at Nature's Re-Creations can easily install The AquaBasin™ within just a few hours. All that's left is for you to enjoy the natural beauty, texture and sound of your natural bubbler rock fountain!
For more information about bubbling rock fountains in St. Louis, contact Nature's Re-Creations today at (636) 223-2330.