Pondless Waterfall in St. Louis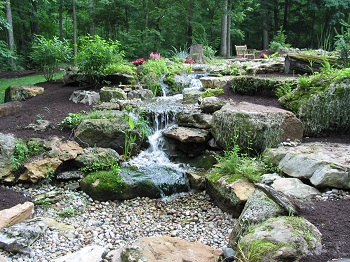 Enjoy the beautiful sight and sound of water with Nature's Re-Creations' Pondless Waterfalls. Simply put, a Pondless Waterfall is a waterfall without a pond. Imagine a sparkling waterfall cascading into a beautiful bed of rocks and gravel. The illusion we create is that the waterfall disappears into an underground stream and continues on into nature. The water disappears into an underground reservoir – beneath rock and gravel – and is then circulated and pumped back up to the waterfall. Because there is never any pooling of water above the reservoir, it gives the appearance of a disappearing waterfall, without a pond.
As one of our most popular water features, this type of waterfall is an attractive option for consumers with limited space options, small children or city restrictions. It can be a wonderful alternative for those looking to get their feet wet before committing to a full pond or water garden.
Size & Space
Nature's Re-Creations in St. Louis creates Pondless Waterfalls that range in many different sizes. This allows you to get a little creative with your landscape despite space limitations. Your waterfall can be as simple as a single drop into a basin or something hundreds of feet long. Pondless waterfalls can be tucked into any corner of your outdoor space, used as the main feature in your water garden or even as a focal point for the front entrance of your home or business. The flexibility of being able to create a feature of any size without having the square footage of a pond is appealing for both small and large spaces.
Cost
Pondless Waterfalls range in price according to size and design. Typical single width streams and waterfalls into a pondless basin can average from $1,000 to $2,000 per linear foot, including the basin.
Maintenance
Although Pondless Waterfalls typically require occasional algae treatments – depending on sunlight exposure – they are one of our easiest water features to maintain along with bubbling rocks. There is no pond to upkeep, no skimmers to clean and no fish to tend to, making a Pondless Waterfall a low-maintenance option. Pondless Waterfalls can even be winterized, if desired, and run throughout the entire winter.
Safety
A Pondless Waterfall is a great option for those concerned about the liability and safety issues associated with a full pond. The waterfall can easily be turned off to eliminate any visible water, if desired. Since the reservoir is below ground, all the water stays hidden. This makes it perfect for clients with small children and animals or front yard landscapes. Children can stand and play on the basin and in the waterfall or stream without falling into a pond.
Flexibility
The best part about a Pondless Waterfall is the option for future possibilities. A Pondless Waterfall can be considered a stepping stone for those considering a full pond for their landscape, which is an easy addition. We can even get creative and design and build the pond of your dreams with all kinds of special features, such as split streams and falls, stone or land bridges, fish caves, negative edges or deep recreational ponds.
Add a little paradise to your backyard or landscape with a Pondless Waterfall feature. For more information about a Pondless Waterfall call Nature's Re-Creations in St. Louis today at (636) 223-2330 for more information.