Swimming Pond in St. Louis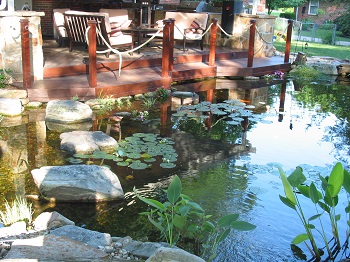 Surround yourself with the beauty and serenity of Nature's Re-Creations' natural swimming ponds. A swimming pond is simply a backyard pond that's clean, safe and ecologically-balanced without the use of chemicals.
Not only does a natural swimming pond provide aquatic play, a solution to summer heat and an alternative to a traditional chlorine-filled pool, it provides a way to bring family together with interactive entertainment, relaxation and the beauty of our natural environment.
At Nature's Re-Creations in St. Louis, our swimming ponds are built to look and feel extremely natural, as if Mother Nature placed them herself. We focus on unique design and allow for a wide spectrum of design possibilities. Our inspiration comes from experience and the desire to re-create the beauty of nature, so when it comes to building swimming ponds that look like nature has placed them, we incorporate natural features.
Eco-System Approach
Our ecosystem approach allows you to swim and enjoy the bliss of clean, clear water that includes a natural balance of fish, plants, gravel, aeration and biological filtration to ensure environmental sustainability. These items work together to keep nutrients in the water at a minimum, keeping algae under control and the water looking clean.

Plants
Plants and foliage play a huge role in the filtration of your swimming pond. Because plants and algae are in direct competition of nutrients and sunlight, plants deprive the unwanted algae of its food source, making them an extremely important addition to your water feature.
Not only do plants add to your swimming pond's health, but they also soften the look of your water feature as though it appeared naturally. Nature's Re-Creations will work with you to choose the right plants for your water feature to ensure a natural transition into your landscape. Plants also add a place for wildlife to gather around. Surround your natural swimming pond with aquatic and terrestrial plants and watch as birds dip down and dragonflies hover over the water.
Fish
Fish are not for everyone, but they are extremely beneficial to your swimming pond's eco-system. Not only do they provide peaceful entertainment, they feed on plant life, control algae and graze the pond floor for debris. Nature's Re-Creations can incorporate goldfish and koi into backyard ponds, koi ponds, swimming ponds and water gardens.
Rocks & Gravel
Rocks and gravel play an important part in the overall health of your pond's eco-system. They provide a surface area for beneficial bacteria to settle and break down complex compounds and excess nutrients that sink to the pond floor.
Filtration
In addition to fish, plants and rocks and gravel, Nature's Re-Creations uses both biological and mechanical filters to maintain a healthy eco-system in natural swimming ponds:
Biological Filter - Uses beneficial bacteria to break down and remove pond waste, such as ammonia, nitrogen, plant debris and fish waste.
Mechanical Filter (or Skimmer) - Traps and removes debris from the surface of your pond before sinking to the bottom, while also pre-filtering the water and housing the pond pump.
Nature's Re-Creations in St. Louis will work with you to create the swimming pond of your dreams so you can swim amongst nature and wildlife in the most natural way. For more information about a swimming pond contact us today at (636) 223-2330.